At least four people have been shot dead after a gunman opened fire at the BPM Music Festival in Mexico.
Mexican police have confirmed a gunman killed at least four people and wounded nine others at a nightclub in the Playa Del Carmen resort.
Glasgow DJ Jackmaster, who was headlining at the Blue Parrot club in the early hours on Monday, tweeted: "Someone has come into the club in Playa Del Carmen and opened fire."
He said he believed there were four or five people dead and "many wounded", before warning people to stay inside their hotels.
This is a very very sad situation. Tryna get my head around it still. Thoughts and condolences to all affected ♥

— JACKMASTER (@jackmaster) January 16, 2017
The DJ, whose real name is Jack Revill, tweeted about the incident just after 3am local time (8am UK time).
According to MixMag magazine, whose reporters were tweeting from the festival, a second shooting was reported at another club called The Jungle, where a separate closing party was being held.
Hearing word that there was a separate shooting at The Jungle for the only other BPM closing party as well

— ✌alerie (@valerie___lee) January 16, 2017
4-5 shots happened maybe around 2:45-3am and ppl backstage started running. We crouched behind a wall, ppl started saying it was fireworks

— ✌alerie (@valerie___lee) January 16, 2017
One reporter tweeted "100% civilians/tourists were shot in front of Blue Parrot. Waiting to hear about The Jungle".
Valerie Lee, the magazine's US editor, said she heard "at least four to five shots fired" at the Blue Parrot.
"People started running because there's an exit in the back," she said. "We stopped and hid behind a cement wall, then crawled under a metal table.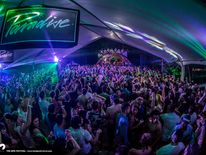 "Security guards at first didn't think it was shots and kept claiming it was fireworks, saying everything was okay.
"Then people kept running and said they saw a gun. We kept hiding until they opened the back gate and we ran outside."
Local media reports suggest the shooting may be connected to Mexico's ongoing wars between drug cartels.
The official Twitter account of the BPM Festival published a tweet, which has since been deleted, saying "all parties are shut down".
Momentos exactos del pánico en #BPMFestival por balacera en #BlueParrot pic.twitter.com/OqvnYdaq62

— Ξ.M.Λ.C. Ü (@EMACUTV) January 16, 2017
Videos posted on social media show people running from the venues and one man severely injured.
The BPM Music Festival, popular among foreign tourists, takes place in several venues across Playa Del Carmen in Mexico, featuring more than 150 of the world's top DJs.
The 2017 event marked the festival's 10th anniversary.