BT Group Plc pledged to cut 13,000 jobs as part of a cost purge that failed to impress investors, who focused instead on the bleak sales outlook and lack of free cash flow growth, driving the stock down the most in 15 months.
The former phone monopoly, facing price cuts mandated by regulators, political pressure to invest in faster broadband and rising inflation, forecast a flat dividend and a 2 percent revenue decline next fiscal year alongside a drop in earnings and free cash flow, as it boosts spending on fiber.
"Probably from 2021 onwards we can see Ebitda grow again," Chief Executive Officer Gavin Patterson said in an interview on Bloomberg TV. He characterized BT's commitment to the dividend as a sign of confidence, after expectations from some analysts that it would make a cut. "We're also signaling to the market that we think it will be unchanged for the next two years."
The stock fell as much as 10 percent and was down 7.8 percent to 220 pence as of 9:54 a.m. in London, the lowest intraday since October 2012.
"It's the outlook" hitting the shares, said Jefferies analyst Jerry Dellis by phone, referring to BT's free cash flow guidance coming in 10 percent below analysts' estimates. The spending forecast that's eating into cash flow comes before any acceleration by BT of its fiber build targets, Dellis said, pointing to the risk the carrier will need to invest more.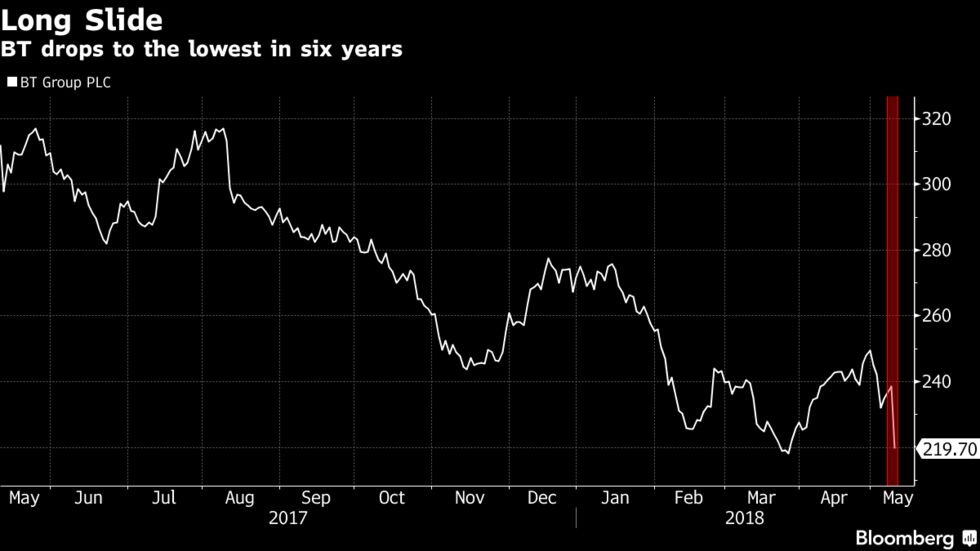 The flurry of news releases Thursday morning by BT, alongside fourth-quarter and full-year results that were in line with expectations, follow a busy year of review and restructuring for Patterson, who's been contending with demands on BT's cash from all fronts while seeking to bounce back from an accounting scandal in Italy and profit warning revealed in early 2017.
Patterson has already cut thousands of jobs, overhauled management and changed BT's strategy for its struggling global services business, as the owner of the U.K.'s largest fixed network and biggest mobile operator seeks to get back in investors' good books. The strategy update was meant to answer uncertainty over BT's outlook that had weighed on the stock, which is down 46 percent over the past two years, compared with a 4.4 percent decline for the Stoxx 600 Telecommunications Index.
Savings from cost-cutting and changes to BT's operations to improve productivity announced Thursday will take three years to offset other pressures on its finances, Patterson said on a call with reporters.
"We're too complex and we're overweight and that's why we need to make this change," Patterson said.
BT plans to eliminate 13,000 back office and middle management jobs but hire 6,000 workers in network deployment and customer service. The cuts amount to more than double several forecasts from analysts ahead of Thursday's announcement and will come at a cost of 800 million pounds. The company will vacate its central London headquarters to focus on 30 other modern sites.
The job cuts mean very little, given BT is also hiring, Dhananjay Mirchandani, an analyst at Bernstein, wrote in a note.
"But what it also tells us is that this management team has quite obviously run out of ideas for a simple and articulate equity story: one that springs few surprises and rests on consistent delivery capabilities without political and regulatory acrimony," Mirchandani said. "BT has now firmly gone from being a reasonably predictable growth story, an outlier in the incumbent landscape across Europe, to becoming a cost restructuring story."
Pension Deficit
The carrier will owe top-up payments of 2.1 billion pounds over the next three years on a 11.3 billion-pound pension deficit, it said, revealing the results of a long-awaited review with trustees. The outcome is in line with expectations from analysts, who had forecast the deficit could come in at 10 billion pounds to 12 billion pounds, according to Morgan Stanley.
The company's 1.3 billion euros of March 2026 bonds fell the most in three weeks, dropping 0.3 cents on the euro to about 101 cents, according to data compiled by Bloomberg.
BT will pay a final dividend of 10.55 pence a share, bringing the full-year dividend to 15.4 pence — unchanged from the prior year. That's less than the 15.7 pence forecast, according to data compiled by Bloomberg.
Fourth-quarter adjusted earnings before interest, taxes, depreciation and amortization rose 1 percent percent to 2.08 billion pounds, in line with the the median estimate of five analysts surveyed by Bloomberg.
source: Bloomberg