A 33-year old woman has become the sixth person to die after a car ploughed into pedestrians on a busy Melbourne street.
The woman died from her injuries in hospital on Monday, police said.
Nine patients remain in hospital, including one in a critical condition.
The others who died were a three-month-old boy, a 10-year old girl, a 32-year-old woman and two men aged 25 and 33.
The car was driven down a busy shopping street in Australia's second-largest city just before 2pm on 20 January.
Footage from the scene shows a maroon car driving in circles before turning down the pedestrianised Bourke Street mall.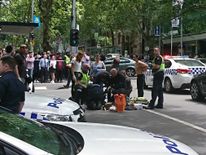 Police in the state of Victoria said the incident was not terror-related, amid growing fears about vehicles being used to target crowds following last year's attacks in Berlin and Nice